So obviously I have very blonde hair, but I wasn't always this blonde. My natural hair colour is almost black and I get a lot of questions on my Tumblr asking how I managed to change my hair without completely ruining it. I've been pretty much every single colour of blonde you could possibly go, so if your interested in going blonde then I'm the girl to ask!
(Please excuse the awful webcam photos)
This is a more recent picture of me with dark hair but I wanted to give you some idea of how dark my natural hair actually is and was at the time of bleaching and dying. I started off by getting my friend to bleach my
hair with
B Blonde Hair Lightener
which you can get pretty much everywhere (Superdrug, Boots, Body Care, Asda), this is just a box full of blue bleaching crystals and it's 4 packets which is probably enough for a full head of shoulder length hair - any longer or thicker and I'd advise to get two boxes. I also used B Blonde Creme Peroxide. You can use absolutely any kind of peroxide or even use developer which you can buy at any good drug stores or Sally's Hair & Beauty for about £3 at the most. If you have super dark hair like mine then use 9% but for lighter hair use 12%. I left the bleach on for an hour at first and washed it off which turned my hair into a dark yellowy colour. I added a handful of conditioner and left on for 20 minutes. After I'd washed that off, I dried my hair and added another layer of bleach. After about half an hour I'd got to the colour below which was perfect at the time and I was happy to say I was a blonde. My hair was completely fine and felt even healthier because of all the conditioner. After a few months I decided I want white blonde hair which to be honest was not hard to get.
Now there are two ways you can do this. Either in stages using a purple shampoo, or using a white colour toner for instant effect (but possibly a bit more damage). I have used both methods.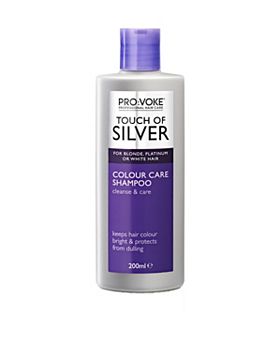 A touch of Silver shampoo is a purple shampoo which goes onto blonde hair and evens out the tones. The more you use it the blonder you become and eventually can go white blonde or silver (depending on how often you use it). At the moment I am using this for my honey blonde hair and I use it twice a week as my hair especially around my roots tends to get a bit gingery. This wonderful product is around £3 also and can be used as often as you want. It genuinely does work and the first time I used it I just couldn't believe the difference it made in my hair.
There are many other variations of this shampoo. I just find this to be the cheapest. When I first bleached my hair I used a purple shampoo from Sally's Hair & Beauty called Sensories but it was a bit too expensive and although it worked, I never bought it again because there definitely are cheaper variants on the market which work just as good, if not better.
Another way of making your hair white, and this I must say is a quicker way of doing it, is by using a white toner. I have found the best to be Directions White Toner which comes in a purpley colour but it is absolutely fantastic. It's £3 or £4 and you can get it from places like the market or beauty stores. Even some piercing stores sell this beaut.
This is one of those items that feel like a complete life saver when it comes to white hair. You put it on like a shampoo and leave it for a few minutes. Wash it off and it completely evens out the tone. The longer you leave it on the more it will tone and the whiter it will become. I know there are a few different types of white toner out there on the marker but this one for me is absolutely perfect. Now at the moment I am not using this toner because my hair is a sort of honey blonde, but when I was white blonde this product was used at least once a week. (Please remember this is a hair dye and over use can break your hair).
This photo is of me when I had white blonde hair (and blue - sorry about that I couldn't find a photo of just the blonde). It took a lot of patience to get it this blonde and a lot of conditioning happened daily on my head because I was aware of how much it could break my hair.
There are a lot of products on the market though that are great at adding moisture to your hair - I tend to use a lot of Aussie products for my hair as I find they smell the best and feel lovely. But there is also the John Frieda range if you want shampoo and conditioner specifically for blondes. The secret to blonde hair is keeping it healthy and conditioned. Otherwise it will become brittle and fall out. Bear in mind that these products can be cheap if you look in the right place. I would say no more than £5 for a shampoo/conditioner which is perfect when you are on a budget all the time like I am.
I now have a honey blonde hair which I love, to be honest it's a lot less work than white blonde but I guess it all depends on your preference. I love being blonde and would recommend it to anyone, I've been blonde on and off for 3 or 4 years now and blondes definitely do have more fun!
So if you're blonde leave me a message with your fave products or how you became blonde! Tips and tricks are always useful!