1. Favourite winter nail polish?
Reds and greens are my favourite. Especially dark reds.
2. Favourite winter lip product?
I'm going to be boring and say Vaseline. Cannot deal with chapped lips in this cold weather! Awful.
3. Favourite winter scent/candle?
I love cinnamon candles! I have two in my room right now.
4. Favourite winter beverage?
White chocolate hot chocolate from Starbucks. Oh my god.
5. All time favourite holiday movie?
It's A Wonderful Life or The Muppets Christmas Carol hahha absolute classics.
6. Favourite Christmas song?
Fairytale of New York - how predictable!
7. Favourite holiday food/treat?
Mmmmm all of the food given to me on Christmas is my favourite. Mash and turkey and sprouts and mince pies and mmmm everything, I can't choose!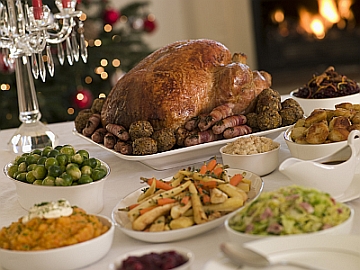 8. Favourite Christmas decoration this year?
We barely have any decorations this year, I am so upset. My favourite has to be the Angel on top of the tree that last year we drunkly stole from Weatherspoons.
9. What's at the top of your Christmas list?
I don't really have anything I WANT this year. I just asked for make up and smellies - I'm so boring.
10. What are your plans for the holidays this year?
No idea really, party, drunk and chill out.
11. Most worn winter accessory?
12. Most worn winter piece?
Probably my leopard print faux fur coat - so warm and comfy.